Hello, Camille Leavold, Managing Director/Co-Founder
After a cold and snowy winter, Spring has definitely sprung in Hertfordshire. We've had a really busy start to the year with 61 new care workers joining the Abbots team since January after completing their care certificates. Learning and development is something we place a high value on at Abbots and I love to see you all coming in to refresh your training, sign up for qualifications and add to your knowledge and skills with our specialist training sessions. We are only ever as good as the fantastic Care Workers who work at Abbots so if there are any courses you would like to see on the training directory please let us know.
In the Autumn we will be launching a new charitable company called Abbots Friends. Our aim is to recruit volunteers to visit our care service users which will help prevent isolation and loneliness. More details will be released over the Summer but if you know anyone that might want to volunteer from as little as an hour a month to chat with one of our Service Users please let me know.
We had reason to celebrate in March when we were selected as a finalist for the Skills for Care Leadership award. This was a tremendous achievement for the Abbots Team because, many national providers and organisations were accredited and we got to meet the lovely Anton du Beke of Strictly Come Dancing fame.
There isn't anything that deserves more of a celebration than our Care Workers who have a long term service history of over, five years and over working for us. Last month we celebrated with the following Care Workers:
Gill Askey – 22 Years, Shirley Galsworthy – 17 Years, Sarah Hurley – 10 Years, Jeanette Benedict – 10 Years, Len Kavanagh – 9 Years of service.
Events
May 3rd Service User Hub – Afternoon Tea and Bingo
Our first hub at head office. A great afternoon with the opportunity to chat to some amazing and interesting Service Users.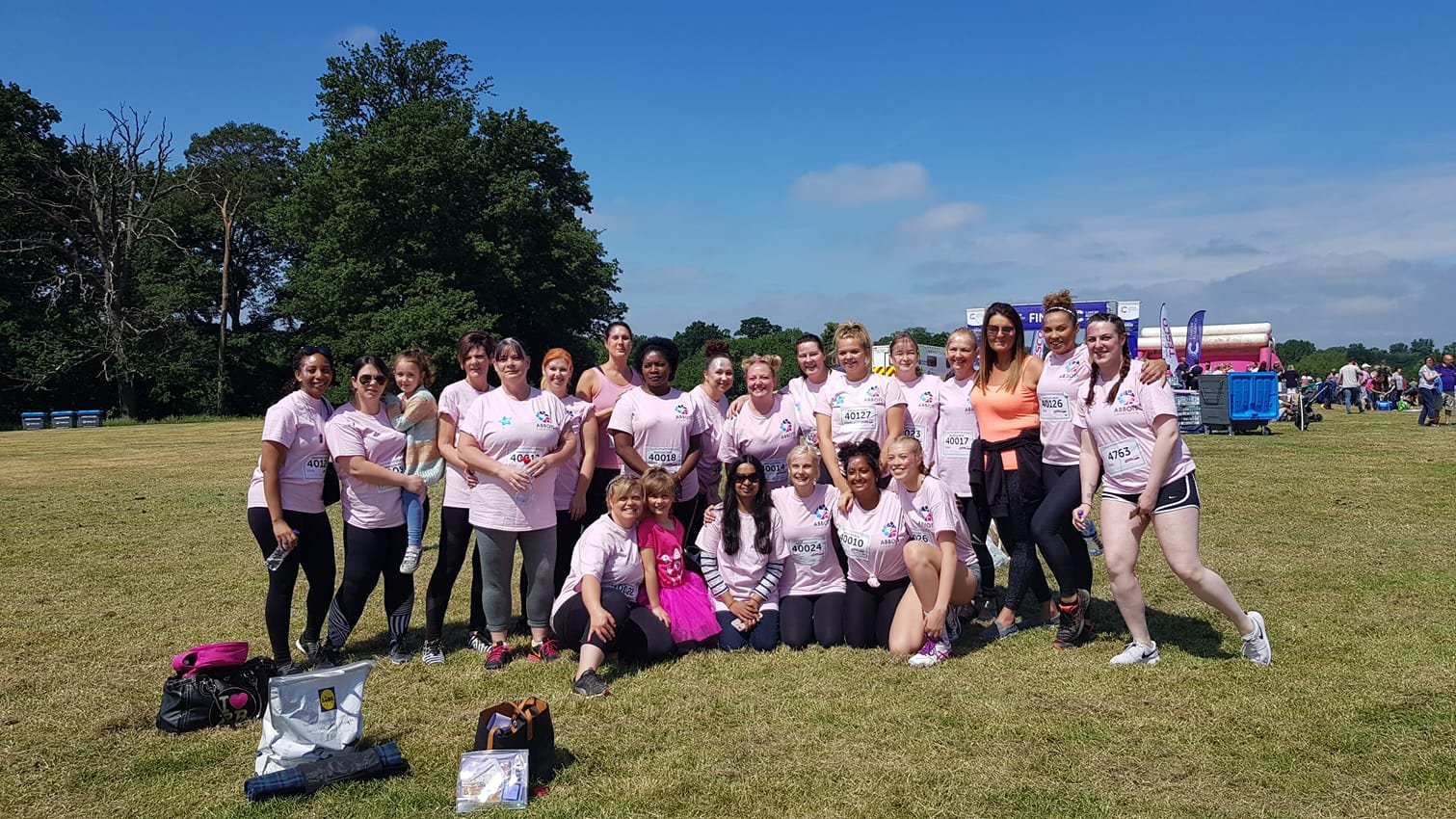 June 9th –  Race for Life
A team of office ladies and their children took part in the Pretty Muddy Race for Life raising £1,185 for charity – well done to everyone that took part.
May 25th – 100th Birthday Celebrations
Huge congratulations to Evelyn Pomfretts on her 100th Birthday here she is celebrating with her careworkers and friends at Wormley Court.
June 14th – The Alzheimer's Society
Cake sale at both head office and Emmanuel Lodge to raise money and the awareness of the Society.
Updated Contact List
Important Notes to Read
IMPORTANT ADVICE DURING THE CURRENT HEATWAVE
It is lovely that the sun is shining and we are enjoying a UK heat wave but for some this can prove to be not just an uncomfortable time but fatal. It is important if you are a carer to check the advice from the NHS on how to support your Service Users, neighbours or relatives, and the danger warning signs in their health caused by over heating and dehydration. If you want to read more click our link to the NHS Heat wave Advice. Remember to also look after yourselves and keep hydrated, you cannot help a vulnerable person if you are struggling in the heat yourself.
Social Media
We hope you are following one of our social media channels – Facebook, Twitter, Linkedin or Instagram. We are now using our channels to communicate lots of important messages and you will see some wonderful videos. If you don't already follow us please can you and remember to like and share all of our posts.
Remember a cup of tea and a chat can make all the difference!
If you finish your shift and have any time left please remember to use that time wisely. A number of our Service Users will just appreciate a five-minute chat and a cup of tea.
Administering Medication
Please remain diligent when administering medication to Service Users. If you have any questions or queries please speak to your Community Manager.
Thank you
We have seen a considerable improvement in the logging in and out process. Thank you to all of you and please keep this up
You should have received a letter from us on 27th June regarding the implementation of our new monitoring system. Please ensure you keep an eye out for further information we will be shortly sending you on training days for this new system, and installation of the app. We are really excited about this new venture!